Team-building initiatives don't have to come from the top. As your office's go-to planner, you may be a natural for the role of "quarterback" in these efforts.
Need some ideas for bringing staff together? We asked members of the Staples InsidersNetwork to tell us: What is one thing you try to do regularly to help encourage team spirit at your office? Some of the responses may give you inspiration for getting a team-building event or program off the ground.
Alice, office manager: "I started a weekly social called the Stand Up and Share that gives people a chance to mingle and learn a bit about each other. Each week, a different person hosts by picking a topic and bringing snacks — no more than $20 worth. The socials are structured as half-hour meetings and include time for mingling and chatting. The topics range from work-related updates to 'how I spent my summer.' Sometimes, the hosts bring a game for us to play, or they bring an idea they want feedback on."
We asked members of the Staples InsidersNetwork to tell us: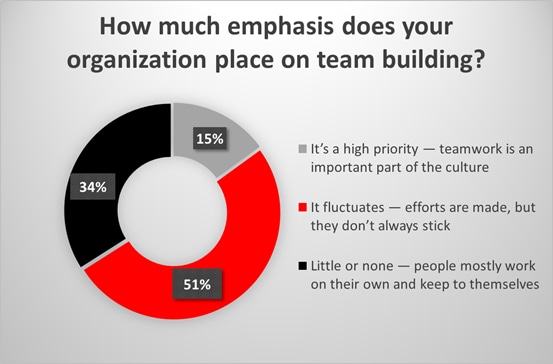 Team building gets short shrift at many companies, but that could create opportunities for you to take the initiative.
Alice makes a point of looping in remote employees, who call in for each week's event. "The socials are a nice chance for people to catch up or to get to know each other, especially people who aren't in the same department."
Lynne, office manager: "My team and I try to go out to lunch once a month, on a Friday. As their manager, I think it's important to get to know them outside the office. These lunches give us a chance to let our hair down, so to speak, and get to know each other on a personal basis."
The tradition is just a few months old, but it's already made a difference. Connecting away from the office has helped the group work better as a team. "When you can talk and laugh outside of the office, you develop a camaraderie," Lynne says. "You get to know each other's idiosyncrasies, so you don't take things so personally. It also lets my team know that I have their back."
Angela, senior support services coordinator: "Our staff does 15-minute team-building games every other Wednesday morning. I split each department up into six groups so that each team has different department members. We play a mix of work-related and non-work-related games: Yahtzee, office trivia, ladder toss and cornhole, just to name a few. Each game requires teams to work together to win."
The company keeps track of each team's score, and at the end of six months, the winning team gets $150 to spend on lunch. Along with the friendly competition, Angela says, the games give employees who normally don't interact a chance to get to know each other.